Industrial Ink and Adhesive Cleaners
The NSF registration mark certifies that these products conform to the strict guidelines of the largest third party independent approval body in the world for the use of products within the food industries. This internationally recognised registration means that both product formulations and labelling carry NSF approvals for food industry use.
Operator safety is paramount to our company, and all products in our range are operator safe when used as per label instructions.
Gard Chemicals is registered to OHSAS 18001 Health and Safety Management and operates the Global Harmonised System (GHS) for all labelling and safety data sheets.
All products are formulated using VOC free / exempt substances wherever possible and mindful of current legislation trends. These formulations are under constant review to ensure we remain the No. 1 Supplier of choice. 
We operate within the environmental management systems under which we are ISO 14001 registered for the manufacture and supply of maintenance chemicals. All products are formulated to be environmentally/eco friendly whenever possible and conform to the latest environmental regulations.
GlueGuard, Inc. was born from a need and desire to provide the highest quality of products to the North American Industrial Adhesives market. For decades, the North American market has been forced to work with unsafe solvent based cleaners and ineffective citrus cleaners. GlueGuard's multi-year, worldwide search for an extremely effective and safe adhesive cleaner was a success. We have partnered with Gard Chemicals (a U.K. Company) to be the North American distributor of their incredible line of adhesive and ink cleaners.
Situated in the U.K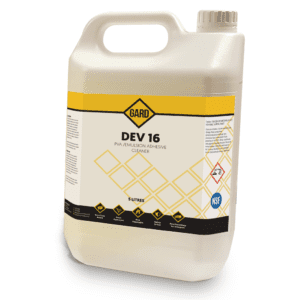 ., Gard Chemicals is a specialist manufacturer of adhesive cleaners and release agents for the hot and cold glues used within the food, drink, packaging and associated industries, and has recently developed a new range of products that removes sticky issues with adhesives.
This new range of industry-approved Gard chemical cleaner is now being supplied to bottling halls, packaging companies, food manufacturers and more, for use on all surfaces both to clean and prevent adhesive from sticking by using safer, more efficient and environmentally-friendly products than previously available.
The R&D team at Gard Chemicals looked at the old problems associated with traditional adhesive cleaners such as flammable solvents, citrus based cleaners, paraffin wax granules, etc. and formulated the new range to meet food industry standards.
Manufactured under ISO 9001 and ISO 14001 accreditation's, applications for this new product range are include:
External adhesive removers for in situ cleaning. Liquid hot melt purges for premelt units and hoses. Release agents for preventing hot melt sticking to surfaces to ease cleaning. Release agents for preventing cold adhesives sticking to surfaces to ease cleaning.
"We are beyond excited about this partnership, as it puts us on the leading edge of adhesive cleaner development. We are proud to be bringing these great line of products to the North American market."